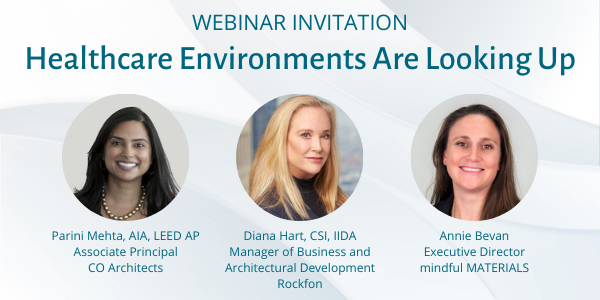 Tune in on August 25, 2022 at 2:00 PM EDT
to earn 1 AIA LU/HSW; Canadian Architects: 1 Learning Hour

This webinar is part of the Healthcare Academy.

High-performing ceiling solutions can offer acoustic, infection control and aesthetic benefits that impact the critically vital functionality, safety, comfort, and overall atmosphere of healthcare facilities. From ceiling systems with excellent acoustic performance to cut down on noise to energy-efficiencies related to lighting and cooling, there is arguably no specification that has greater importance to the health of a building and its occupants. More so, a properly specified (and installed) ceiling system can help prevent common healthcare setting problems such as mold and infections due to enhanced cleanability and ease of maintenance. Often made of recycled and recyclable materials, and with a virtually unlimited palette of colors and design options, ceiling systems can offer a real boost toward creating an appealing and comfortable environment.

Learning Objectives:

Describe ways in which specifying high-performing ceilings—including stone wool tiles, metal ceiling panels, wood ceilings and suspension grid systems—can affect sustainability, daylighting, and other energy-efficiency goals within a range of healthcare environments.
Describe the role of a ceiling's acoustic ratings and the impact on occupant privacy and comfort within medical settings.
Discuss how ceilings systems affect infection control and maintenance within hospital and other healthcare environments, and the potential effect this has on patient care.
Identify a number of healthcare design options for ceiling systems and how they can help create an inviting setting where patients, staff and visitors feel increased satisfaction and comfort.

---

Sponsored by

---

May qualify for learning hours through most Canadian architectural associations.
BNP Media is authorized by the IACET to offer 0.1 CEU for this program.
A BNP MEDIA EVENT

Copyright© 2023 by BNP Media II, LLC. All Rights Reserved
BNP Media 2401 W. Big Beaver Rd. Suite 700
Troy, MI 48084 | webinars@bnpmedia.com

To ensure that you continue to receive these valuable messages in your inbox,
please add our email domain interactive-bnp.com to your address book.

You have received this notice because you are a qualified industry professional who subscribes to a
BNP Media product. If you do not wish to be notified by BNP Media of Interactive Media related to
your industry, please click here to be removed from receiving future notices.

Your privacy is important to us. You can visit our website to review our Privacy Policy
to learn more about our privacy practices and to review our Terms of Use.

DO NOT SELL MY PERSONAL INFORMATION: California residents can click on this link
to opt-out of the sale of their personal information.